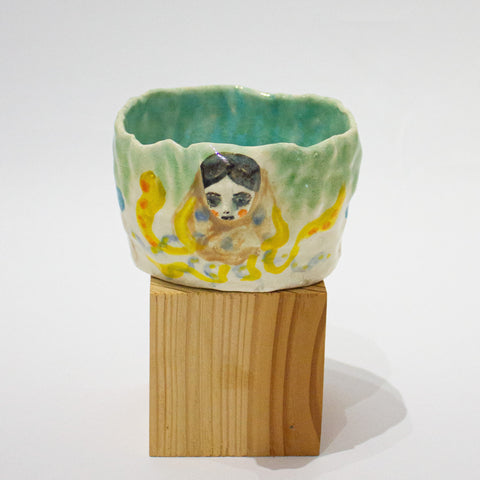 Jellycles
Pickup currently unavailable
Dimensions:
±8
cm(H)×12cm(L)×11cm(W)
Material:
Malaysia white stoneware clay
Painting:
 AMACO underglazes before bisque firing, food grade glazes before glaze firing.
About the artist:
Hannah Bhatt is a mother of 2, a law graduate and a talented ceramic artist behind Uncanny Valley Studios. She built pieces, featuring faces, irregular shapes, and mythical chimaeras, to showcase her skill and creativity. The faces of chimaeras are mythical or fictional creatures with parts taken from various animals.
In Hannah's words: "I always kind of felt like a fish out of water. I used to illustrate fishes with legs and slowly expanded them into different creatures. If I had the ability to bring clay to life and breathe soul into my creations, they would embody a sense of longing and displacement.
It is a dance between realms and I hope it conveys a profound message of acceptance, self-discovery and the importance of embracing what makes us feel like a fish out of water.
The faces of the collection remain a symbol of the beauty that emerges when we dare to step beyond our comfort zones, going against conformity and embracing what makes us unique."