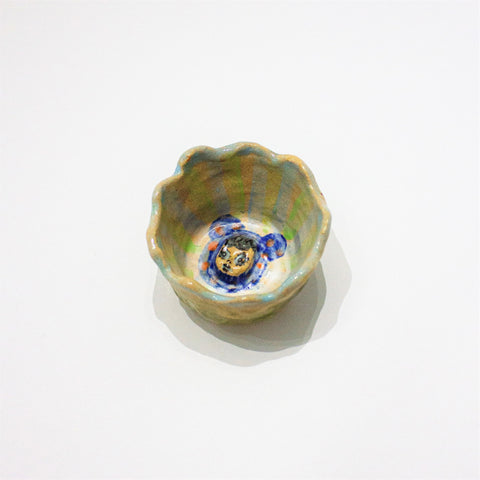 Cave cub
Pickup currently unavailable
Once upon a time, in a whimsical forest, lived a blue cub. He was covered in vibrant orange spots, which made him quite unique. But what set him apart the most was his love for his cosy cave.

Every day, while other cubs play outside, he snugged up his cave, surrounded by his shiny rocks and twinkling crystals. He enjoyed the company of his cave's friendly echoes and his favourite activity was telling stories to the shadows of the walls.

The other forest animals found his behaviour quite peculiar. Squirrels, rabbits, and even a wise old owl tried to coax him out, but he would simply giggle from within the cave. "I'm quite content here," he'd reply, "my cave is my adventure!"

Dimensions: ±5cm(H)×9cm(L)×9cm(W)

Material: Sayong clay. From the rivers in Perak, this clay has a natural brown finish. It is said that the water stored in a container made from Sayong clay has the healing power to cure minor illnesses such as fevers and coughs.

Painting: AMACO underglazes before bisque firing, food grade glazes before glaze firing. Both firings take over 24 hours to ensure safety for food use. 

About the artist:

Hannah Bhatt is a mother of 2, a law graduate and a talented ceramic artist behind Uncanny Valley Studios. She built pieces, featuring faces, irregular shapes, and mythical chimaeras, to showcase her skill and creativity. The faces of chimaeras are mythical or fictional creatures with parts taken from various animals.

In Hannah's words: "I always kind of felt like a fish out of water. I used to illustrate fishes with legs and slowly expanded them into different creatures. If I had the ability to bring clay to life and breathe soul into my creations, they would embody a sense of longing and displacement.

It is a dance between realms and I hope it conveys a profound message of acceptance, self-discovery and the importance of embracing what makes us feel like a fish out of water.

The faces of the collection remain a symbol of the beauty that emerges when we dare to step beyond our comfort zones, going against conformity and embracing what makes us unique."